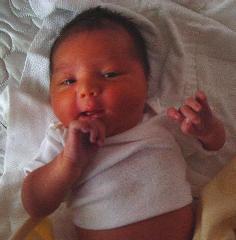 Ellie is Born!
Eliana Jasmine Zivar Baker
June 22 2002, 7 pounds 10 ounces, 19.5 inches
Carle Foundation Hospital, Urbana Illinois
Note (October 27, 2003): When she was about six months old, we changed Ellie's name back to Maya. Georgia and Devyn continued to call her Ellie for another six months or so, but our little rainbow is now firmly back to her original name.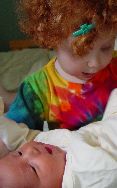 Mother, baby, sister and husband are all doing well and adjusting to the change. Mother has been resting and mothering, baby has been nursing and sleeping, sister has been becoming acquainted and playing with cousins, and husband has been working and supporting.
The birth was assisted by Midwife Kathy Easter, who proved her expertise and wisdom by knowing the course of labor but intervening lightly and only when we reached our limits, and by Nurse Amy Williams, who was dedicated and compassionate for the duration of the labor, even staying after her shift had ended to steady Bahíyyih's hand.

Naming
Before she was born, we were all ready with a name for a boy. Emmett Franklyn. As for girl names, we had looked over our old notes, many carried over from Georgia's naming, and we hadn't found anything that really grabbed us. So when she was born, we had to think fast.

First, we were going to call her Maya. Maybe even Maya Lou. Everyone was delighted. Bahíyyih's graduation had only been two months before, and the Commencement speaker was Maya Angelou. We even made sure to greet our little jewel sweetly with "Hello, Rainbow!" as Maya the Poet Laureate had greeted Bahíyyih's graduating class.

We even announced her name to our family, although we cautiously amended it with "for now". But we weren't convinced. We even looked through our list of names, but nothing stuck. Eventually, Billy had to go home to take care of Georgia, trading places with Bahíyyih's mother, Susan, to stay in the hospital for a second night of rest.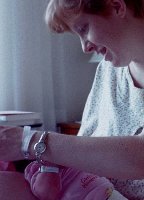 The quiet paid off, and Bahíyyih came up with a name. Eliana Jasmine. She wanted a name that fit this baby's gentle personality and a flower for a middle name, just like Georgia. That just left a Bahá'í name to choose. Martha, Bahíyyih, Táhirih -- worthy namesakes, but none seemed quite right for this child, for one reason or another.

It didn't actually take much searching to come up with Zívar. The name had been given to Billy's father's mother, Annemarie, by 'Abdu'l-Bahá, when she was an infant on pilgrimage with her family. She never used the name, and Billy's sister inherited it. And although we have a rule to not name children after people who are still living, we made an exception in this case.
---